There is an advertisement on Irish television at the moment that irritates the hell out of me.
Nearly all advertisements irritate me, but this one is particularly bad.
It is a very clever bit of filming and the effects are quite spectacular.  Obviously it cost a lot of money, which annoys me too, as it's my money.  The film was made by our beautiful government, out of the public coffers.
If you live in Ireland, North or South, doubtless you have seen it –
Incidentally, this is the Southern version.  The Northern version is absolutely identical except for the registration plate!
Why does it irritate me?
It is supposed to be a warning against the dangers of speeding.  We see Yer Man getting his rocks off with the local slapper, and then we see a car flying through the air at him.
Then we come to the really annoying bit – the stern judge [who is probably pissed off because he has been dragged away from his porn collection] announces that "it is quite clear that you were driving too fast to cope with the unexpected".
In my book, the poor bastard didn't do anything wrong.  He is driving along a quiet country road that is nice and straight.  There is no obvious speed restriction [though in this God forsaken country there probably is a 20MPH limit there].  There is a broken white line down the centre of the road.  Visibility is good and the road is dry.  I would overtake there and so would 99% of other drivers.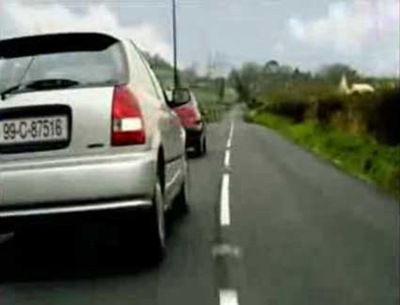 So he overtakes a car and a dog runs out.  These things happen, though they are extremely rare.  I'd have prosecuted the dog, or its owner.  I wouldn't say the driver broke the law though.  He was just unlucky.
Now if it had been a warning about the dangers of shagging the local bike in public at the side of the road…………?