Not Wilde about Irish Ferries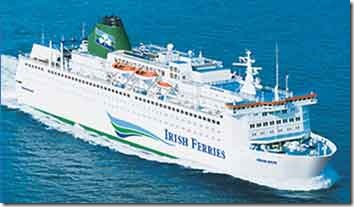 A couple of years ago, Irish Ferries ran a competition.
They had bought themselves a new ship to sail between Ireland and France, and the competition was to think up a name for it.
They wanted a name that implied luxury and speed.  The name also had to reflect the Irish/French link.
I entered for the competition.  I can't remember my suggestions, but they were damn good, and I should have won.
They never gave the result of that competition, but they did name their ship – Oscar Wilde.
Luxury?  Speed?  Irish/French connection?  There is logic there somewhere, but for the moment it escapes me.
I had my first trips on the Oscar Wilde, and I was impressed.
It is a very nice ship.  It has bars, cinemas, games rooms, a restaurant, cafes, a shop and lots more.  It is quite luxurious.
The cabins impressed me the most.  On previous sailings, our cabin was the size of a wardrobe with bunk beds so there was no room to move inside.  I have had roomier accommodation in Mountjoy.  The new cabins have beds, one of which doubles as a comfortable sofa.  They even have television.  Very comfortable.  I noticed there were a couple of containers welded onto the superstructure, presumably accommodation for immigrants, just to make them feel welcome.
Unfortunately, a ship is just a lump of steel.  It has to be run by a company, and here is where the trouble starts.
The staff [crew?] on the ship were very friendly and efficient.  I have no complaints there.
What I do complain about is the rip off factor.  Jayzus!  They are masters at it.
How would you fancy a cup of tea?  It will set you back something like €2.  For that you have to serve yourself with a paper cup, boiling water and a tea bag.  If you want a large cup of tea, you pay something like 30c extra, for a little bit more boiling water.  Fucking expensive water.
Food is excellent quality… if you are used to eating in truck-stop cafes, that is.
The Guinness wasn't bad, but that was €4.50.
Of course they have the fucking smoking ban on board.  They have a big thing against smokers.
You can buy enough alcohol in the shop to float the ship.  They encourage you to buy as much as possible.  You can only buy 40 fags though.  Or two packs of tobacco.  Another piece of logic that has me stumped.
On the return journey, I was sitting having a pint.  There was a very attractive girl working in the lounge, and she spent a lot of time standing and counting.  She looked puzzled as her finger pointed from table to table and she whispered numbers to herself.  I asked her what she was doing.  'Counting the chairs' she replied.  I can't imagine they have much trouble with people stealing chairs, and I would assume that the number of chairs in the lounge was that same all the time.  'Why?' I asked.  She put on a very helpless expression and told me that her manager told her to.  She looked very frustrated, as people kept moving the chairs around.  This sounded very like a bucket of steam or glass hammer job to me, so I told her to tell him there were 128.  She looked impressed.  'Are there?' she asked, looking very relieved.  'I haven't a clue,' I said, 'and I'm damned sure the manager doesn't know either.'
Will I travel on Irish Ferries again?
Yes.
They are the only company that sail direct to France on the days that I want to sail, and from the port I wish to use.
I'll be bringing my own food though.