The spy who came in from the cold
All good things must come to an end.
The guinea pig has lost his freedom.
He has, however gained a warm home and a good supply of food, so the little bugger had better not complain.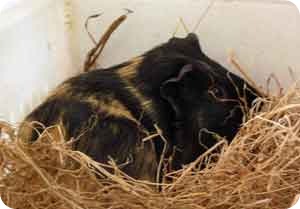 He hasn't uttered a squeak since he came in.  Not a warble or a bubble.  I think he's depressed.  I'll give him some Prozac later.
In the meantime, there is the question of what to do with him.  Our K8 is going to try to introduce him to her pair.  If they get on, then that's fine.  If they don't, then I'll look after him.  I confess I have grown quite fond of him over the last ten days or so.  He looks quite tasty too.
There is another problem – his name.
I called him McCain, but I don't think it's fair to call him after such a freak.  I was going to call him GP.  That's short for Guinea Pig and bears no relation to his medical qualifications, if any.  I'm not sure about that though.
I'm stumped.
Any ideas?