We decided to go for a drive, because it seemed like a good idea at the time.
There is a place called Carlux which intrigued me, partly because of its location [in a valley] and partly because it sounded like a car wash.  We decided to head there.
It is a lovely little village, and in an area where most of the villages are lovely, that is something.
I stopped the car to take a couple of photographs and herself started muttering about coffee.  She had spied a place just up from where the car was parked.
I was dispatched to see if it was, in fact the kind of place that sold coffee, and it wasn't.  That didn't make a squat of difference to herself, and she decided to explore for herself.
We walked up to it and found it was a barn that had been converted into a shop selling local produce, from cakes and wine to carved stone and paintings.  I pottered, she bought.
At the back of the barn was a small restaurant and Herself demanded lunch.  I wasn't in the least bit hungry, but I wasn't going to start a fight that early in the day.
One thing I have to explain about the Peregord region of France – if you don't like omelettes or duck, you are fucked.  If you are a duck then you are thrice fucked, as they don't seem to eat anything else.
We looked at the menu and Herself decided on omelette and I decided on duck [confit de canard.  What else?].  We sat ourselves out on a little terrace which literally overhung the valley.  We ordered and waited.
When the meals arrived, I can honestly say I was at a loss for words.  I am not a 'wow' person, but this was a 'wow' moment.
I have never seen such a colourful or appetising plate in my life.
The menu had blandly stated "Confit de canard avec crepes et pomme de terre Sarladaise".  This was a bit like describing Constable's Haywain as "a bit of a painting".
Along with the duck, which was beautifully cooked and very tender, I got the promised mushrooms and Sarlat potatoes which are potatoes thinly sliced, deep fat fried and then sprinkled with crushed garlic.  I also got a load of salad which was beautifully dressed along with a lot of fruit, like melon, grapes and raspberries which were garnished in a delicious syrup.  The whole thing was topped off by a flower!
It was possibly the nicest meal I have ever had, bar none.  I ate every scrap, but Herself stopped me eating the duck bones and the flower.
It was truly an experience.  Even the building itself was fantastic.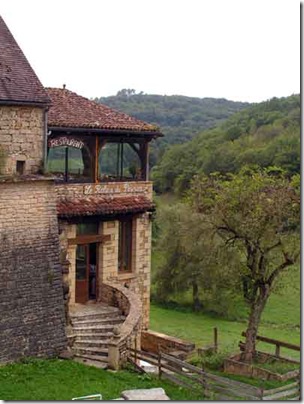 Of course, the more mercenary amongst you will be muttering about the cost.
€12.
Beat that!