Kicking ass in Palm Springs
I seem to have developed an ambassador in America.
That is only right, I suppose, as my empire seems to be spreading.
RhodesTer in Palm Springs has awarded me the Kick Ass Blogger Award, as a bribe to obtain the post.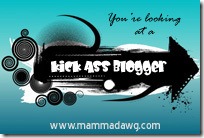 I have nothing against bribes provided
I don't have to do the bribing
Politicians or elected officials aren't involved.
I think it would have been more appropriate if he had sent it to Kirk M , Maxi Cane or Manuel though [note the 'M' theme?].
RhodesTer has even offered to accommodate me in his hotel, presumably on a lifetime basis.
Now this is quite a nice offer. I could sell up the Manor here, and move to Palm Springs and live a life of luxury in his hotel for the rest of my days. I don't know much about his hotel except that it has a pool and there is a spot of crime in the area.
I decided to do some research into Palm Springs. The first thing that surprised me is that I thought it was in Florida. Apparently they have moved it though, to California. I suppose they wanted to get away from the hurricanes, which is fair enough. Another thing I discovered is that they have 354 days of sunshine. This sounds impressive, but like all statistics, it hides the truth – they have 11 days in the year when it pisses rain all the time. I don't know if I could stick eleven days of non-stop torrential rain. Another thing that they don't mention, presumably because they want to hide the fact, is that it is full of Americans. This offer of accommodation isn't looking quite so attractive after all.
In an effort to try to get people to visit this hell-hole of a place, they are holding a film festival there. I hope it stays sunny for them.
The film director Shane McCabe is there for the festival and apparently has been reading this site [Hi Shane!]. It transpires that he want to buy the rights to all my books and make a film about me.
That's fine by me.
As long as I don't have to go to Palm Springs.