Health food makes you thick
Healthy food is very bad for your health.  Fact.
The other day, Herself was having a bowl of some healthy cereal, full of nuts and raisins and other crap.  She started coughing and spluttering, and the next thing I knew, she spat a tooth half way across the room.  It bounced off Sandy's head and lay grinning at us from the corner.  "Thit," she said.
We went to the dentist yesterday.
I sat in the car with Sandy, because I refuse to enter those places.  Sandy is of the same opinion [and her teeth are fine].
Herself came out eventually, looking rather grim, to say that we had to go to the Thity [I think she meant 'City'] to get a new partial denture.  So we set sail and for the first time in her life, she sat there quietly beside me clutching a bag containing moulds of her mouth.
We dropped off the moulds, and on the way home, I suggested we stop for a coffee in the village.  She said that was fine as long as she didn't have to thpeak to anybody.  That was all right in my book, as I like my coffee and pipe-full to be peaceful.
It was a lovely day yesterday, and there were quite a few people sitting outside the coffee shop.  I grabbed my usual table and ordered.  Almost immediately, a couple of tourists who were sitting beside Herself started chatting to her about the dog.  She refused to talk to them and just made noises, so I explained to them that she was on a day out from the Maximum Security Home for the Bewildered.  They left in a hurry, which gave us more space.
Eventually we got home, and who should we meet, but our new next door neighbour.  He came in to introduce himself, and Herself had no option but to talk to him.  I had to patiently explain that her name wasn't Herthelf and the dog wasn't called Thandy.  I think he left with the impression that we are a little bit thtrange.
We have to go back today to collect the new denture.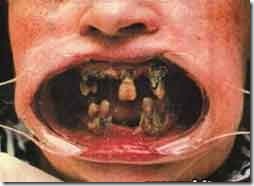 The the moral of the thtory ith that if you want to keep your teeth, thteer well clear of health food.