It has been an 'interesting' few days.
It started on Saturday morning when I got up.
I went into the room where Sandy had been sleeping, and suddenly felt very dizzy. There was the most appalling stench. I began to hallucinate.
Sandy had had a dose of the squits. Actually, when I say 'dose', I mean 'tsunami'. I haven't witnessed so much shite since I last saw Bertie give evidence to the Mahon Tribunal. It was everywhere.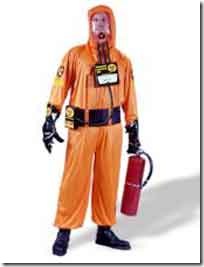 Luckily, I had done a deal on eBay with Mikhail from Uzbekistan a couple of weeks ago for a few nuclear warheads, and he had accidentally enclosed some biological hazard suits as well.
I rooted one out, and was able to breathe again.
I started the cleanup operation.
Herself came into the room in the middle of the operation. She passed out straight away and collapsed into a rather large liquid pool in the corner. I left her there to absorb some of it.
Eventually, I got the place cleaned, and with all the doors and windows open, the air began to clear a bit.
Our Sandy is extremely fastidious about her toiletries. She is so discreet, that she normally won't do her business in the garden if anyone can see her, so she disappears behind bushes and trees. Naturally, she was utterly mortified at her attempts to redecorate the house.
For the next couple of days, Sandy couldn't show her face. She didn't eat, and kept trying to hide behind chairs and things. We couldn't allow this, in case she did another impression of a slurry spreader.
By Sunday the liquid excrement production ceased. Having already produced about ten times her body mass, I was quite impressed with her output up to that point.
Then she started farting.
By Tuesday, I had had enough. The paint was beginning to peel off the doors, and we had had complaints from people from over five miles away. It was time for the vet.
We drove in silence apart from the odd rasping fart from Sandy. I left the car windows open, and two cars behind me crashed when their drivers passed out from the fumes.
The vet greeted us cordially, though he looked a bit puzzled at my bio suit that I was wearing. He made friends with Sandy who licked him enthusiastically on the face.
"She's very friendly" said the vet in delight.
"She's also very clean," I said. "She has been licking her arse all the way here."
He returned after washing his face thoroughly, and asked me why I was wearing a bio suit. At that moment, Sandy let rip again as if to answer his question and the vet had to go and change out of his clothes after vomiting all over himself.
He examined Sandy in the car park where the air was almost breathable, and gave her an injection. He prescribed some pills too and took the rest of the day off.
Sandy is on the mend now.
It isn't easy giving her the pills, because she pretends to swallow after I pop one in her mouth, but she manages to keep it in her cheek somehow. I have to keep popping it in again.
The vet suggested a diet of chicken and rice, which is apparently what you give a dog that has diarrhoea. That was fine by me so I have just ordered an extra chicken vindaloo every day.
We are just about back to normal now.
I'm not too sure about the brown carpet though.