When the wheel stops turning
It has become a bit of a tradition that whenever I travel the Dublin to Galway road, I stop off at Locke's Distillery in Kilbeggan.
I also stop there if I'm on the Galway to Dublin road.
Not only is a handy place for a piss, but they serve good food and coffee.
Locke's Distillery is supposed to be the oldest pot still in the world. It still uses all the old traditions and methods, and its most striking feature is the huge water wheel at the side.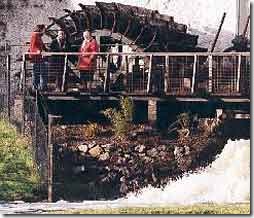 When we arrived, I was delighted to see the wheel churning away, creaking and groaning as it has for well over a hundred years.
While we were there, a coach driver came in.
"I have a coach load of tourists outside," says he. "Where do you want me to put them?"
"Bring them through to the back," says the manager.
I might add that Locke's is one of Ireland's finest tourist processing plants. I almost felt sorry for the coach load. Luckily there was a fortuitous thunderstorm which drowned out most of the screams from the back.
Later, I had to nip out to the car to fetch something. On my way back, I noticed the water wheel had stopped, which was very unusual.
I went up to the girl behind the counter.
"Do you know that the wheel has stopped?"
"Aw fuck!" says she. "Someone must have thrown another Spaniard in the works."