I don't normally get my jollies out of software.
Software is just something I install on my computer to cause it to crash.
But I installed a piece of software last week, and it actually got the pulse rate to increase [very slightly].
If you run a blog, then this software is a cracker.
DON'T INSTALL IT. If you do, you will regret it, because it is hypnotic. You'll spend hours just watching it.
I have to curse thank Bock for introducing me to it.
It's a thing that goes under the horrible name of Woopra. It kicks Google Analytics into the middle of last year.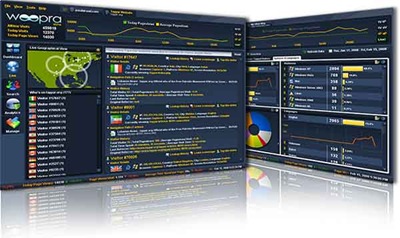 You have to sign up for it, which isn't easy, because it is only in the testing phase, and they have to approve your application. This takes a while. Then you add a tiny piece of code to your site [a much smaller piece of code that GA, I might add]. Lastly, you install the software package on your puter.
So what does it do?
Basically, it does all that Google does. But it does a hell of a lot more.
First and foremost, it shows things as they are. Now. At this instant. You can watch people arrive on your site and watch them browsing from page to page. You can see exactly what they are reading at any instant. And if you want to scare the shit out of them, you can send them an instant message that pops up on their browser, and you can then have a chat. It's great when people come looking for 'senior porn' – I can send them an instant message – 'We're watching you. You little pervert'. They tend to disappear fairly quickly [usually less than a nanosecond]. I have caused a couple of my regular readers to wet themselves, and I apologise. I won't do it again, unless you ask me to.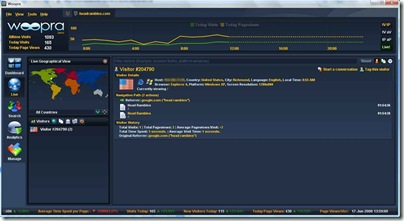 It does have its little problems, but then it is more Alpha than Beta, so that's to be expected. It drops out occasionally, and can be difficult to reconnect but that's rare. They also haven't implemented a method of filtering users, so all my hits are counted [except those to the Admin area]. On the plus side, it runs on the PC so it is a lot faster than Google. Its graphs and statistics are very comprehensive with a very powerful drill down. You can do searches, and set alerts. It doesn't have a proper help section yet, so a lot of it is trial and error, and I keep finding new features every day. Because of the tiny code, it tend to be a lot quicker off the mark so its figures are more accurate than Google's. I'm getting more hits and page views than I thought! It also has a nice trend feature in its graphs. It knows how many visitors or page views I should expect for the time of day, and graphs that against the actual figures. It even gas a ticker-tape that shows how your trends are doing for the day.
I haven't mentioned this before, but there are a couple of sad fuckers out there. They are pals. Each of them only has one friend and that is the other sad fucker. Their hobby at the moment is to trawl my site looking for offensive material. They are absolutely obsessed with it. Neither has a sense of humour so they take everything I say literally, which causes them a lot of angst. They have never commented on the site, though one of them wrote to me, and the other is spreading slander about me. They really are a very sad pair.
I watched them last week. They went through the site page by page. They paid particular attention to three or four pages. They spent three hours going through the site, and one of them notched up around 250 page views. They really are obsessed. It was fascinating to watch though. One was even mailing the other, telling him which page to view. I was very tempted to send an instant message asking if I could help them find anything. I resisted though.
I didn't want to spoil their fun.