My browser of choice is Minefield.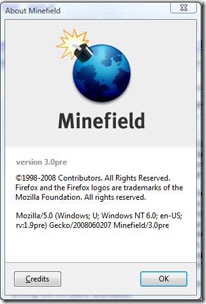 For those of you who haven't heard of it, it is the new Firefox 3 which is still in development. It is brilliant. It has all sorts of nice little features, but the nicest thing about it is its graphics rendering. It is so much clearer and makes the worst of sites look better.
It is also fully compliant on web standards.
And that is its downfall.
Because there are a lot of sites out there that it can't read because they aren't compliant.
Last night I decided to book the ferry to France. I had booked the holiday a while ago, so I thought it might be a good idea to be able to get there.
But first I had to do some tweaking to my bank account.
I connected to my bank, and up comes a firm but polite screen – "The Internet browser you are using is not supported". They then go on to tell me I should be using Internet Explorer [*spit*] or Firefox. But I am using Firefox!
Luckily, I have a copy of Firefox 2 in my back pocket for such emergencies, so I fire it up and do my banking.
I switch back to Minefield and hook into the ferry site.
They have just redesigned their site at great expense and are very proud of it.
I have an account with them, but I want to use a different credit card. Lou Kradner of San Francisco is paying for this jolly. So I go to modify my account.
I click on the 'Modify Account' button, and it brings me to the Bookings page, which I don't want. I click on the 'Bookings' button, and that brings me to the previous page.
I eventually discover how to delete my card, which is good enough, and proceed with the booking.
I select my sailing dates and go through the process of booking cabins. I am asked for my credit card details and I give them Lou Kradner's. Everything is fine. I click on "Confirm Booking". Nothing happens. Bollix!!
There is a little button on Minefield that normally glows green. It was glowing red, so I clicked on it – errors all over the place! It was no wonder it didn't work.
There was nothing for it but to go back to Firefox 2.
That brought me through the whole process again, but this time it was looking for a lot more detail. It was like a different site. But this time all the buttons did what they were supposed to do. I booked my sailings. I can even tell you I am in cabin 6229 going over, and 9321 on the way back.
I was about to log off, when I noticed a survey about their new web site, and they are offering a free trip to a winner. So I did the survey.
In the comments section at the bottom of the survey I told them that their brand new web site was a load of crap. I told them why. I told them that I hoped they had updated their ferries beyond the sailing days, because their web site certainly wasn't up to date. I told them their website was a load of shite and they should get a decent designer to redo the whole fucking thing.
I don't think I'll win that free trip.