I just received an email from Amazon.
I buy quite a lot of stuff from Amazon, as I'm an avid reader and so is Herself. In fact, I received a delivery from them only last week.
They write to me frequently suggesting books I might like, which is fair enough, though I just delete them as if I want a book, I'll order it.
This email has me worried.
First of all, they are recommending 'Thanks for the Memories' by Cecelia Ahern. Now, this goes to show just how wrong computers can be. Why in the name of all that's holy would they think I would want that? I read books. Good books, by good authors, and they suggest Cecelia Ahern? Jayzus! I have enough firelighters in stock, and they are a lot cheaper than Cecelia Ahern's books.
The bit that has me worried though, is their suggestions for non-fiction.
They want me to go camping in the UK. Why? They want me to order 'Caravanning and Camping in Great Britain'. I don't have a caravan or a tent. To go with it, they want me to buy the 'AA Big Road Atlas, Britain'. They are very keen to send me there.
They obviously realise that I may not want to go to Britain [which I don't, at the moment] so they are also offering me the Lonely Planet Guide to Thailand.
I wouldn't mind seeing Thailand, and they must know this. In fact, I think they know a lot more than they are letting on.
The last choice they have sent me is 'Make the Most of Your Time on Earth'.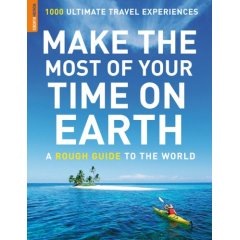 That worries me.
What do they know, that I don't?