I rue the day I taught that bloody dog to play tennis.
Now that summer is here [albeit temporarily?] she is insisting on several games a day.
She starts off in the early afternoon.  She finds a tennis ball, and there are a few around, and then drops it.  The sound of a tennis ball bouncing on the floor is common these days.
If I ignore her, she picks it up and drops it again, because she likes the bouncing noise.
If I continue to ignore her, she gets pissed off and starts throwing the ball at me.
Yesterday was the worst.  Herself was nagging me over something or other, and the nagging was accompanied by the sound of a tennis ball constantly bouncing.  It did my head in.
So I give Sandy a game.  She always beats me and leaves me knackered.  She then takes a short rest and the whole thing starts all over again.  We're up to about five games a day now.
I am a shadow of my former self.  Sandy is as fit as a fiddle.
Afterwards, as the sun is going down, she heads off to sleep with Bruno.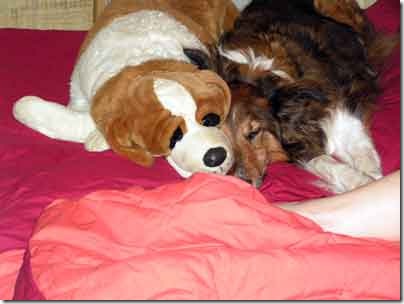 Or maybe Teddy.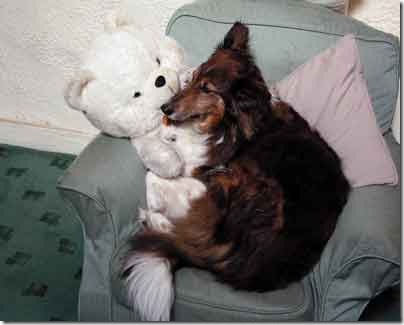 She's a randy fickle bitch.