We are planning a wee break in France this year.
We went a couple of years ago, and had some interesting experiences over there, but unfortunately, I didn't start this site until after we got back.
Thinking about the holiday to come, has brought back memories of the last one……..
We planned to stop off for a night in Angers, so I researched the Interweb and found us a lovely hotel. It had good ratings and a good price so I booked it in advance.
We arrived there at half three.
It was locked and deserted.
It was quite hot and sunny, so we sat out in the front, because we couldn't be bothered to do anything else.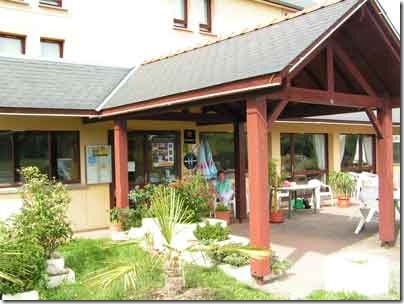 At four, a scruffy bloke arrived, gave us a dirty look and went into the hotel.
I followed him in and he snarled at me. I was delighted to see a big sign on the counter saying that they spoke all languages, but obviously Scruffy hadn't read it.
I told him [in English] that there was a reservation for Granny and Grandad, and he looked at me blankly. I tried French. He looked at me blankly. I grabbed the computer and pointed to my name on the screen. He didn't like that, but he grudgingly gave us a key.
I asked him about dinner. He looked at me blankly. I pointed to the dining room where the tables were all set. "Fermé" says he. I threatened him and he grudgingly told me there was a restaurant two hundred meters down the road.
We eventually found the restaurant [it was over a kilometre away] and had a very nice meal. We returned to the hotel.
It was dark by then so we settled ourselves in the residents lounge to read.
At half eight, Scruffy reappeared. "Fermé" says he. We looked at him. How could a hotel be closed at half past fucking eight? There were two other [French] residents there too and they looked a bit puzzled, so I knew it wasn't just me.
But Scruffy was not to be outdone. He locked all the doors and switched off the lights, plunging us into darkness, so the four of us groped our way up to our rooms.
The following morning, we went down to see if there was any breakfast.
The dining room was open all right, but we couldn't get in – it was packed! There wasn't a spare table. The car park outside was jammed solid with coaches. Where the fuck did they all come from??
We had pre-booked a night there on our return journey.
I cancelled it.