Come on baby light my fire
For as long as I can remember, I have been using lighters rather than matches. Lighters are cheaper in the long run, less messy and are easier to light in a wind. They are also less ecologically friendly.
Usually I like BiC lighters. Lately though they have become 'child proof'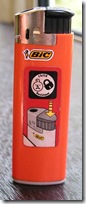 They have put a little symbol on the side implying that they are child resistant, and then, because children of that age can't read, they have included a symbol to show how to use the lighter. That is very thoughtful.
Actually, all they have done is to put in a stronger spring, so I now have RSI in my right thumb. It's so bad, I have to get the local children to light my pipe for me. They can do it with no bother.
Ages ago, I started buying much cheaper lighters in the local shop. After chucking a few away, I realised I could refill them, so I bought a canister of gas. That was great as I could use the lighters until the flint ran out, and I have quite a few old spare lighters.
The only problem I have now is I feel a little embarrassed when you consider where I have to stick the spout of the gas can…