There has been a bit of hype about the release of WordPress 2.5 and it finally was released last week.
I had heard great things about it, so of course I installed it.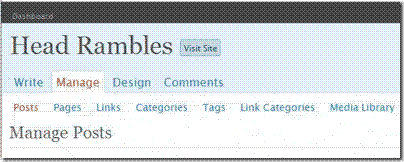 The first thing I found was that it was the easiest upgrade I had ever done. It didn't even disable all my plugins. OK, I had to tweak Bad Behaviour, but that was easy.
The next thing I noticed was the very fancy new dashboard. There are loads of new facilities, even if it will take a little time to get used to.
So you want to know my impression of this new release?
It's crap.
It is utterly useless.
It still churns out the same old rubbish onto my blog.
I was expecting great things. I was expecting to see articles that would hit the world's headlines. Digg, here I come. StumbleUpon won't know what hit it.
But no.
Same old shite.