Normal service will be resumed..
I have a few regrets about Saturday night.
The first is that I didn't get to meet more people.  The only reason I went is because Bock the Bastard promised to buy me a pint and I couldn't find him.  Then he fecked off early to escape me.
The second is that those I did meet, I had difficulty hearing.  Old age again.
The third, and biggest regret is that I couldn't stay longer.
I can't mention all the great people I spoke to, because my memory is crap [as you know], and I know I'd leave a lot out.  But to every one of you – thanks.  You made a great evening special.
I am sitting here in my comfy armchair, where I sit most mornings.  It is a beautiful day outside.  Blue skies, birds singing, sun shining, snow falling [snow?  What the fuck?].  I'm tapping a few inane words on my keyboard and I don't expect anyone to read them because they are my own little bit of amusement.  So when I arrived on Saturday and people started coming up to me and saying they were dying to meet me, I was utterly bewildered.  I read on a post yesterday that someone wanted to meet me, but they lost their nerve?  What?  What the hell is going on?  I was the one who was nervous and bewildered.  I was the one who was surrounded by the great and the good and I was nervous about approaching anyone.  I was approached by people who said they read my blog but were too nervous to comment?  What in the name of all that is holy is that about?  Any time a comment appears on the site, I get a little glow.  Someone is reading what I have written and have bothered to reply.  I feel honoured.
I didn't expect to win.  I was very surprised to make the long/shortlist.  I hadn't even thought about what I might say, because it never occurred to me that I might have to say it.  I sat down the back, because I knew I wouldn't have to have quick access to the stage.  I was more than gobsmacked when Rick called out Head Rambles.  What the fuck were the judges thinking of?  Were they on smack or something?  Whoever you were – thanks!  As I said yesterday, an Irish Blog Award means more to me than any other award.  It really is the highest accolade.
I should also thank a few other people.  [Yes – here comes the acceptance speech I didn't make].  For the first time in my life, I would like to thank Microsoft who sponsored the category, and Hosting 365 for the bottle of bubbly [which is being laid down for a very special occasion].  And of course Moviestar for the DVD player.
The nice little graphic on my sidebar was done by Robin Blandford [another winner!], and I will wear it with pride.
Another thing I will wear with pride is the lovely t-shirt given to me by Julie-Anne of Curious Tales.  If I can get it back from Herself of course.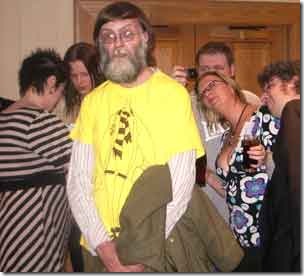 Elly and the gang reading my t-shirt,
or looking for my off-switch?
I have already thanked Damien and will continue to sing his praises.  The other reason I wanted to go on Saturday was to shake him by the hand.  At least I achieved that [are you listening, Bock?].
I would also like to thank whoever it was who had the idea of nametags with very small print.  It gave me the opportunity to legitimately approach women and stare down their cleavage without embarrassment.  Though I was caught once or twice staring down at a fine pair, only to realise that they weren't wearing a nametag.  Woops.
We would love to have stayed longer.  Unfortunately, wee health problems meant we had to leave early.  As it is, we overdid it and are going to suffer for the rest of the week.
But it was worth it.