A photograph purporting to be me appeared in today's Irish Daily Mail.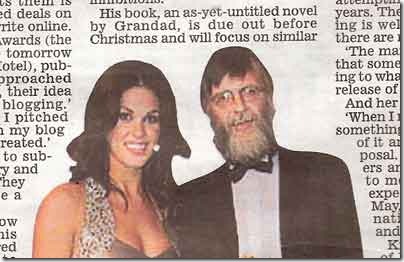 I wish to state clearly and categorically, that Glenda Gilson and I are not an item.
We only met the once and I spoke to her briefly a couple of other times.
The fact that she has been spotted leaving here on many occasions in the early hours of the morning is a figment of the imagination.  I would please ask my neighbours to stop phoning the papers about it.
On a more positive note, the article is entitled "Misfits no longer, Irish bloggers are snapping up book deals".  That's good.  I'm no longer a misfit.  It's official.  Thank you Sinéad.
If you do happen to see the article, concentrate on the photograph of Feebee.  She's much nicer looking than me.  Well, a little bit.
And before anyone says anything, we're not an item either.