Bertie Ahern and mashed potatoes
There are times, [not often, I grant you] when I am almost at a loss for words.
There is an event taking place tomorrow that I frankly find so bizarre that I feel either I am going insane, or else the rest of the world is.
A "performance artist" is being paid to come to Dublin.  This "performance artist" does things that frankly should have him confined to a nice comfortable well padded secure room for his own good.
Mark McGowan claims he is famous because "he once pushed a peanut along the road with his nose for 7 miles".  Art?  Insanity?  I'll let you choose.
Anyway, as I say, he is being paid to come to Dublin.  And what is he going to do tomorrow?  Wait for it…..  This is a classic…..
In an extra ordinary art performance, artist Mark McGowan is to dress up as the An Taoiseach Bertie Ahern and crawl on his hands and knees, while attempting to pull an incredible 300 kilos of potatoes (in a large bulk aggregate bag attached to his leg by a piece of string), along the road for an amazing 4 miles, in Dublin, Ireland. The intention is to show the people of Ireland the difficulties and struggles of being the Irish Leader, he has the weight of Ireland along with his own personal problems, such as the Mahon Inquiry to deal with, and this performance is an attempt to show everyone just how hard it is being Bertie Ahern.
What the fuck?
So this little wanker is going to crawl four miles along a road in support of that lying little toe-rag, and he is being paid out of public money?
I am going to do my own bit of "performance art".
I have hired myself a small lorry.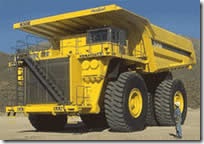 I shall be driving through Dublin tomorrow.
I will let Mark McGowan do a proper impression of Bertie – as a nasty little stain in the gutters of Drumcondra.
Mashed potatoes, anyone?