Ireland debates switch to right-hand driving
At last Head Rambles is taking its righful place in the history books of Ireland.
At last the government is listening to Grandad.
OK, so they are a year late, but what the hell.
Of course Donie Cassidy is claiming all the credit for himself [the bastard], but
Ireland debates switch to right-hand driving
Now the credit is actually mine.  I proposed this, over a year ago.  As proof, here is the gist of my article…
-oOo-
For centuries, Ireland has been the poor relation of England. We inherited their laws, their architecture, their language and their way of life.
We see ourselves now as an independent state that is more European than British. We have adopted the Euro as our currency. We have established Irish as an official language within the European Union. We have won the Eurovision Song Contest more times than anyone else. It is time for the next step.
We propose that from the 1st of July 2007, we will adopt the European standard of driving on the right hand side of the road.
This is a major initiative that will bring us in line with the rest of Europe, along with metrication. Furthermore, with the rate of immigration expected to increase, by the year 2010, the majority of the population will have originated in countries that drive on the right.
We already have the physical infrastructure in place. It is just a matter of public education.
Starting from the 1st of February, motorists will have a five month period in which to have their vehicles adapted to left hand drive. During this period, road signs and traffic lights will also be adapted. All new vehicles sold after this date will be configured for left hand drive.
Starting on the 1st of July, there will be a period of transition.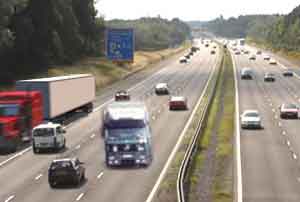 Period of transition
Initially, all buses and articulated vehicles will move to the right to allow for a period of adjustment. Car owners may opt to make the switch themselves on an individual basis, depending on their level of confidence.
Starting on the 1st of August, all motorists outside city limits will be required to drive on the right. And finally on the 1st September, all city traffic will make the transition.
It is appreciated that there will be some confusion initially, but death rates within the first year are expected to be below the 50,000 mark. This is a small price to pay for the estimated five lives a year that will be saved after the transition.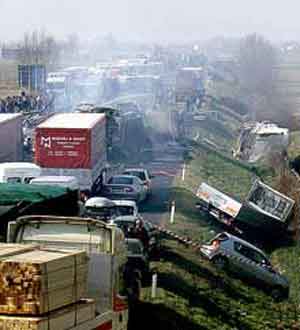 Some initial confusion
The Government is committed to reducing the appalling death rate on our roads, and to further harmonisation with our European neighbours.