Facebook is a pain in the face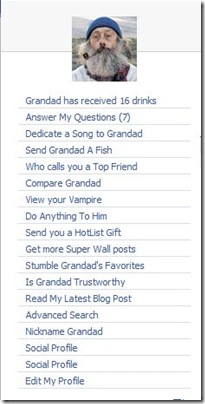 I have made some mistakes in my time.
One of the biggest was getting involved in so called Social Networking sites. And the worst of these is Facebook.
It seemed like a good idea at the time. I could join, and then see what my virtual friends are up to. But it didn't work out that way.
I am being inundated with requests, and some of them are frankly weird. I have requests for hugs, attacks and sexual personality tests. I have been attacked by zombies and asked to predict my life. I swear I even had a 'make a baby' request at some stage.
The problem is that each of these requests requires me to install another application. And when I install it, I am supposed to inflict all my contacts with the same requests. It's like pyramid selling on steroids. And some of the applications want my mobile phone number. Why? They're not getting it. They can fuck off.
I have reached the stage now where a mail from Facebook arrives in my Inbox telling me that someone wants to whisk me off to the Bahamas for an orgy, and I sigh and delete it.
I still drop in every couple of weeks to see if there is anything interesting going on. There isn't. Just the same old crowd partying like mad like they were on cocaine.
I would delete my account, but my personal information is up there to be gathered. Of course it's all wrong, so I'm hoping I'll screw up their system.
So if anyone wants to have my babies, you'll have to call around to my house, in person. We'll do things the old fashioned way.
You won't find me on Facebook.