Asteroid TU24 to impact and cause chaos tomorrow
There is an asteroid heading our way. NASA have known about it for some time. It is going to arrive tomorrow.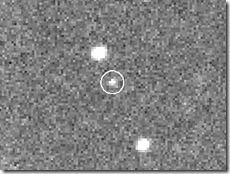 Asteroid 2007 TU24.
The only question is where is it going to impact?
According to NASA, it is going to fly by close to us at a distance of 334,000 miles.
However, the conspiracy theorists claim that this is a cover-up by NASA, and that it is in fact going to hit South America at 0500 GMT. NASA don't want to cause panic amongst the Earth's population, but world leaders are all heading for the bunkers.
I like conspiracy theories. In fact, there are a couple of them I subscribe to myself. So why should I doubt this one?
For a start, anyone who has ever been to the cinema or watched television knows damn well that any asteroid or meteor that hits earth, always hits either New York or California.
And the same source tells us that anything that is heading for earth will have Bruce Willis fired at it.
I can tell you for a fact that the asteroid is going to impact.
It is going to hit South America [or New York or California] in which case we needn't worry about Global Warming any more.
or….
It is going to smack into the arse of the conspiracy theorists and they are going to have one hell of a headache on Monday afternoon.
So who is right? NASA or the conspiracy theorists?
I can't wait to wake up tomorrow and find out.