I see a great site has disappeared from the Interweb, without so much as a murmur.
KICK.IE is no more.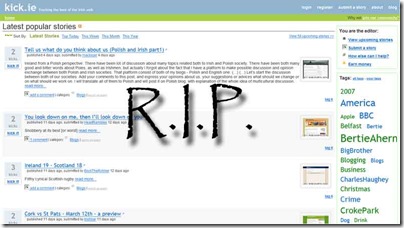 I was very sorry to see it go, as it was an Irish site that catered well for the Irish market. It was the Irish Digg.
Of course, the reason it was closed was because it was abused. It was spammed by every two-bit yokel who thought he had something to advertise.
I shall miss Kick. It used to be one of my first ports of call, until the spammers started.
I can't let it pass without a mention.
Thank you Gavin.