Servers cannot hold their drink
Just in case you were wondering where Head Rambles had gone……………..
I thought I would start the celebrations early.
While my laptop and I have been in constant touch over the last year, I have largely been ignoring my server.
My server has been doing trojan work, hosting my blog and handling all my mail. If it wasn't for my trusty server, there wouldn't be a Head Rambles.
I have never sung its praises. I have never said how good it is. I have largely ignored it. I felt very bad about that. So, today I decided to rectify the situation.
I sat with my server and we opened a bottle of whiskey. We discussed the past year, and I told it how much I appreciated it. I gave it a hug.
Then I gave it a glass of whiskey.
That was a mistake.
Sorry.
I have a word of warning to everyone.
Whiskey and servers don't really mix.
There was a rather nice little festive blue flame, and my server passed out. It just can't hold its liquor.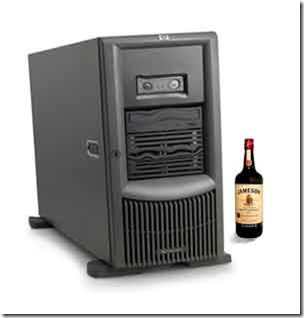 It's doing its best to sober up now, but it may be a bit unsteady on its rack for a while.
I should have given it a Guinness instead.