Being pulled four ways at once
I am going through a very bad time at the moment.
So much to do and so little time to do it.
I am being pulled four ways at the moment – home, business, blogging and The Book.  At least one of them has to suffer.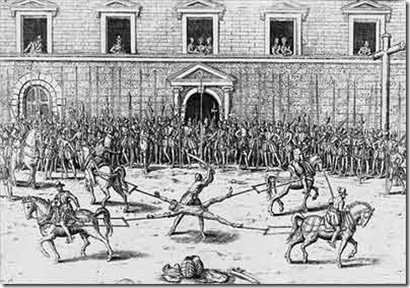 Business is kind of mad at the moment.  I was trying to wind that down a bit, but it seems every day, I get a call from someone new wanting me to take on more stuff.  This Silver Haired Internet Technology thing started as a laugh but it is beyond a joke now.  I am working flat out at it, but for each project I finish, I find two new ones to replace it.  I can't tell them to go away, because I want to go to France next year, and I need the money.
Blogging is fun.  But because it's fun it is having to take a back seat.  I feel bad about that because I don't have time to leave comments, and comments are a lot of what it's all about.  I have been tagged again [*sigh*] but it's an interesting tag so I intend to do it.  Sometime.  It needs a bit of thought which is why I can't just lash off a bit of drivel.  And I don't really have time to write stuff for my own blog.  I'm actually typing this with my toes, while I do other things with my hands.  It's that bad.
Then there is The Book.  That, to me is the most important at the moment.  I always wanted to write a book, but it was one of those dreams, like climbing Mount Everest, that I always assumed wouldn't happen.  Now that it has come down to it, it is a lot harder that I expected.
The other night, herself wanted a bedtime story, so I read her the first few chapters.  She was delighted.  Last night, she wanted more, so I started reading out the next bit, and realised that I had gone horribly wrong.  I couldn't read it out it sounded so bad.  So that is a lot of work to be deleted.  Bugger.  Knickers.  More work.
So, you see, something has to suffer.  Apart from me.
So it has to be the blogging…………