We had a power cut on Saturday.
They aren't uncommon here, being up in the wilds, so we have a good supply of candles, torches, and old oil lamp, and of course, our trusty gas cooker.
In the spring of 1976, we had the idea of buying a tent.  So we went off and got one of those chalet tents with all mod cons.  We got a table and chairs, lights and a cooker.
Our first camping trip was a fiasco.  Herself caught the flu, and it p*ssed rain.  I said it was just bad luck, but she said never again.
So, after just one holiday, we sold the tent, but we kept the other bits.
Over the years, the table and chairs got broken and were dumped.  The lamp disappeared.  The only thing that survived was the gas cooker.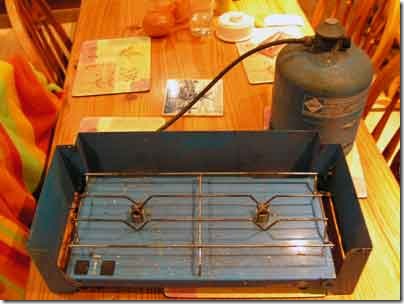 That gas cooker has been all over Ireland.  It has been to the south of France.  We nearly always bring it, because it's handy for brewing up a cup of tea if we stop for a picnic.
It has seen us through many a power cut.  We even cooked Christmas dinner on it a few years ago, as we always had a power cut on Christmas Day.
"But," you ask "what is so special about that?"
I'll tell you what is so special.
It is the same bottle of gas we bought in 1976.
It has been going now for nearly 32 years.
I'm not even sure if you can buy them now, and I wouldn't know where to look.
Surely this must be some kind of record?
Or is it just a Tardis?