I was reading through some blogs today, and I came across a post by Bad Ambassador about an encounter at Heathrow.
This brought back some memories.
Some years ago in 1994, I was over at Heathrow doing a wee job.  I won't say what the job was because it was a wee bit illicit.
Anyway, I was staying at the Ibis Hotel on Bath Road in Heathrow.  And I was working in an office about half a mile along Bath Road.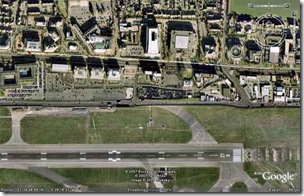 My lonely walk
For those of you who don't know Heathrow, Bath Road is one of the main roads out of London, and it runs parallel to the main runway.  So it's a great road for plane spotting.  My hotel room overlooked the runway, and even though it was triple glazed, it was still quite noisy.  I didn't mind as it was great fun watching the planes taking off and landing.  Another thing about Bath Road is that it is always solid with traffic.  It is a very busy road.
One evening, I left the office to walk back to the hotel.
The first thing that struck me was the complete silence.  No traffic.  No planes.  Bath Road was completely deserted.  and this was around half five on a weekday afternoon. And the airport seemed to be shut down. It was surreal.
One car sped past with blue lights flashing, but that was it.  Silence.
Then I saw a soldier in full combat gear, standing with his back to me.  He was armed and looked dangerous.  But I thought I'd ask him what the hell was going on.
I reached out and was just about to tap him on the shoulder when his radio squawked and he rushed off somewhere.
I walked back to the hotel.  I met no one.  I went up to my room. 
The phone rang.  It was Herself and she sounded like she was in a state.
"Are you all right?" says Herself.
"Why wouldn't I be?" says I.
"Jayzus! Have you not seen the news?" says she.
Apparently the IRA had just launched a morter attack on Heathrow, and they launched it from the car park of the office I'd been working in.
I often wonder what would have happened if I had managed to tap that soldier on the shoulder and ask in an Irish accent 'what the f*ck was going on'?