It has happened again.
I had a wee nap in my armchair yesterday. Actually, it turned into quite a nice sleep.
When I awoke, I felt a bit stiff in the back.
Bugger. I know the signs. I had to take things very carefully. But, sure enough, a couple of hours later, the back went. Just like that. I wasn't doing anything at the time [just easing myself into a chair], but the pain shot up my spine and down again.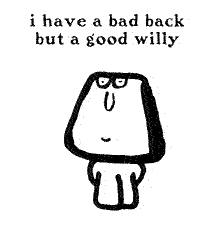 It has happened quite a few times before. That's what comes of being tall and thin. It's hereditary, so I blame my parents.
One of the times it went was at Christmas, several years ago. I was out of work for a couple of weeks after, which didn't please the boss. The following Christmas, I broke three ribs [it was an incident with a frying pan, I think]. That was really painful, and I was out of work for six weeks. The Christmas after that, I was carrying a big box downstairs and slipped. I sat on my foot and pulled a few ligaments or something. I was out of work for a few weeks with that too.
The problem was that on three consecutive Christmas holidays, I wrecked myself, and the boss didn't believe in that kind of coincidence. He thought I was swinging the lead, and it took loads of letters and x-rays to convince him otherwise. Bastard.
So now I am walking around like someone has a gun in my back. And I have to go to a function tonight, where they are threatening to film me.
Hah!
That should be fun.