Yesterday was Friday and tomorrow is Monday
Most of the time I know what I am doing.
Most of the time I know where I am.
Rarely do I know when I am.
This seems to be a problem in this household. We keep getting confused as to what day of the week it is. In fact, I had to buy a watch especially. I like analogue watches, because I have always used them. I hate digital watches. So I have an analogue watch with a digital display on it that shows me the date, and more importantly the day.
Yesterday, I received an email from one of my probation officers. He wanted a report [for the courts or something], and he wanted it urgently. I wrote back and said I was busy [because you can't let these people boss you around]. I said I would do it over the weekend and would have it for him by Monday.
Then I realised that it was Tuesday and not Friday, and I had to write back and apologise. And I hate apologising to probation officers. It upsets the natural pecking order.
With one thing and another, things are a bit hectic here at the moment. Gone are the glory days when I could relax and surf around the blogs, not leaving comments on them [yes – I'm a lurker]. Gone are the days where I could have a reply for everyone who commented.
You see, I suddenly have a whole load of things to do on the work front, and it is annoying me. My fuckwads customers punters clients keep changing the goal posts and they suddenly want everything yesterday [having been quite happy and quiet for most of the year].
All I want to do now is take a nap. But I can't because I have so much to do. And anyway those b*st*rds next door are making too much noise.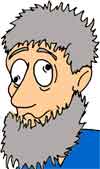 So if I'm a bit erratic with my postings in the future, or if I don't reply to all your comments, I'm sorry.
I'm tired.
I'm weary.
God help me if the battery in my watch dies.