Apparently the Pope has blasted us for not having more children.
Why? What business is it of his?
He has also, in a surprise statement, slammed abortion.
In the same speech he reaffirms religious celibacy.
He seems to be a little confused.
From what I have seen in the past, the Church has been very vociferous in its anti-abortion stance, yet has been remarkably absent in providing any kind of support for unwanted children. Maybe if they removed their celibacy rule, they might find that bringing up a child in this day and age is not as easy as they might suppose.
If they want more children, why not remove their celibacy rule, and let the priests breed like rabbits [not that they do their best anyway, in a lot of cases]?
The Church has been criminal in the past with its treatment of the results of clerical abuse. They have ignored the victims, and have piled emotional trauma on top of physical and sexual abuse.
So why does the Pope want us to have more children?
Are they running out of supplies?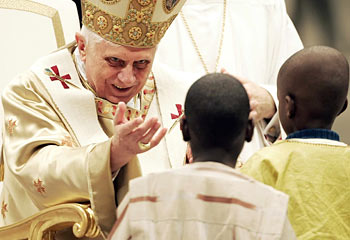 The Pope chooses his main course
from the a la carte menu