Nobody reads blogs on a Saturday.
No. Don't lie to me. I have the figures to prove it.
In fact I can tell what you are all doing during the week by looking at my statistics.
Monday is a relatively quiet day, because you are all hungover and p*ss*d that it is Monday again. And you have to set out all the work that you are supposed to do during the week. So blogging is not particularly high on your list.
Tuesday is a more typical day. Nothing happens from one in the morning up to nine. Well, I'm sure a lot goes on, but it isn't going to appear in my statistics. I hope.
From Nine 'til ten, you have to deal with the important stuff, like catching up on last night's gossip, and who should have been thrown out of Big Brother and where you are going for lunch.
So the serious work of the day – surfing the Interweb starts at ten.
You surf like the clappers until lunchtime and then most of you head off to the pub. Or wherever. Though some of the more dedicated will stay at the keyboard.
After lunch, the boss is probably tanked up, and asleep in his office or screwing his P.A. or something so traffic hits a peak [probably at the same time as the boss].
By five, you all go home. But by then, the Americans are waking up. It's their afternoon there, so they are all busy surfing away.
And so it goes until one in the morning [here] and the Americans are all going to bed or doing whatever Americans do.
You don't believe me?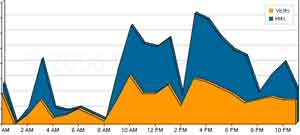 Now compare that with a Saturday, where none of you get out of the sack before one…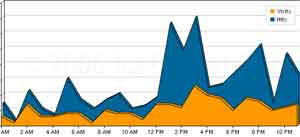 You should be ashamed of yourselves.