So Bertie is thinking of introducing an honours list?
Am I in with a chance? Who else is in with a chance?
Of course the first batch to go down will be the politicians themselves.
Lord Bertie of the Cayman Islands [or wherever the cash is stashed]?
Lord Gormley of the Gormless?
Harney becomes Baroness McDonalds?
Then we have to wade through the sports crowd, who have done nothing for Ireland except play with their balls, or run around a bit.
And there are all the people who have "helped Bertie out" financially. There's going to be a lot of them. But a lot will be afraid of future tribunals, so they may keep quiet.
Eventually, he will get down to The Plain People of Ireland. You and me.
There will be Sir Grandad MBE [Master of the Blogging Empire]
Lord Twenty VC [Vicious C*nt]
Baroness Grannymar MP [Master Podcaster]
Dame Granny LTP [Lost The Plot, of course…]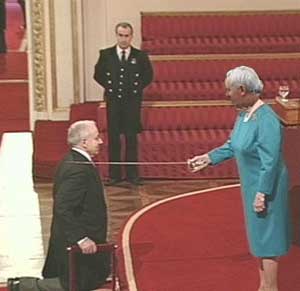 Dammit! I can't go through everyone. You can nominate yourselves.
I wonder how much the honours will cost?