When I was a lad, we lived about a mile and a half from Terenure.
I those days, we had fields behind us where they kept the horses that used to pull the HB milk carts. Now there isn't a field for miles.
If we wanted groceries, Terenure was the nearest shopping area. We used to walk there, unless it was raining, when we'd get the bus. We had a car, but that was kept for important trips only.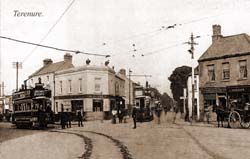 Terenure was still a village then. The main grocery shop was Floods. That's long gone now. It had great oak counters, with lines of biscuit tins in front. The biscuit tins had transparent lids so you could see the contents. There was a lovely smell of smoked bacon and spices. You would be served by a cheerful assistant, who would fetch each item in turn off the shelves behind him. Items such as sugar and butter had to be weighed and packaged. Very few items were pre-packed in those days.
When the time came to pay, you gave him the money. He would put it, and the bill into a wooden jar that was then clipped into an overhead wire system. He would pull a handle, and the wooden jar would go flying across on its wire into the cash office which was high on the opposite wall. There, a girl would put in the change and the receipt, and the jar would come flying back again.
Choice of food was very small compared to nowadays. There were no exotic fruits or vegetables. There were only a few varieties of other products such as breakfast cereal or tinned produce. You could only buy fruit or vegetables if they were in season. But they tasted great!!
People nowadays have no idea how food really tastes. Unless of course, you grow your own. Bread was lovely and soft and squishey, with crackly crusts on the outside. Fruit and vegetables had real flavour.
Across from Floods was Home Stores. I loved that shop. It was a smallish hardware shop, and it was jammed to capacity with produce. You could buy anything there. They had gardening tools, and carpenters tools. They sold wood, and rope. If you wanted a single 6″ nail, you could buy one. Nails were usually sold by weight. Nothing was pre-packaged. I presume they are long gone too.
The chemist was another shop I remember well. again, if you wanted a prescription, it had to be made up by the chemist. He would vanish into the back and return a while later with The Bottle. The Bottle was usually small, with a hand written label on and a cork in the top. If it was poisonous, it would be in a special bottle with ridged sides, just to warn you.
Then there was Eaton's the bakery. Everything was fresh, from the doughnuts to the bread. And the smell in that shop was fantastic.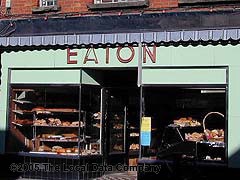 Nearly all of that is gone now. Terenure is more of a traffic jam on the way into the city now. I haven't been there in a while, and I am unlikely to pass through.
I miss the personal service. I miss the ability to buy a single battery instead of four. I miss the days when you could open a pack of rashers without a degree in engineering, or a very sharp pair of scissors.
But most of all, I miss the taste of food.