In its latest surprise move, Google has annexed Russia to Europe.
While the news has not been officially announced yet, users of Google's new Analytics program can have a sneak preview of the revised boundaries of Europe.
Google have issued a statement saying that this move was in response to the demand that they provide a separate search engine for the Russian region.
"Rather than develop a separate engine, we decided it would be easier to move Russia into Europe" they said in a statement today.
When contacted by our reporter, the United Nations stated that they had received mixed opinions on the annexation.
"The peoples of the kamchatka Peninsula are very happy with developments, but there is some unease in Mongolia at their omission" said a spokesman.
"Leaders in the Old Europe were initially cautious, but have decided to invite Russia to join the European Union in 2020, subject to the usual conditions" the statement ended.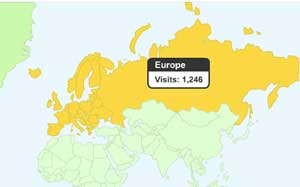 The New Europe
Edit: please note that due to a printer's error this article originally referred to China. We apologise to the people of China and have sacked our printers. The original copy supplied to the printers, did of course say 'Russia'.