I'm going up in the world
Some friends of mine are going to Nepal.
They don't know it yet, but I'm going to cadge a lift off them, as I always wanted to go there.
I always thought it would be fun to climb Mount Everest.
I have climbed a few mountains in my time.  I have climbed the Sugar Loaf in Wicklow quite a few times, and have climbed Kippure [well, actually, I drove there, but it's the same thing].  The stairs here are quite steep so I'm used to steep slopes.
How hard can it be anyway?  30,000 feet?  That's only about six miles.  I'm sure I can manage that if I sit down for a while every now and again to catch my breath.  I'm not sure if Herself and Sandy are coming yet.  Sandy enjoys a walk, but she's a bit confused by snow.  Herself might get a bit out of breath, but she can always get a taxi back down again.
I can borrow a tent off The Accidental Terrorist.  I think one of his mates has one of those ones with separate bedrooms and a kitchen and all so we'll be quite cosy if we have to spend a night there.  And we'll bring a hamper so we can have a picnic on the top while we enjoy the view.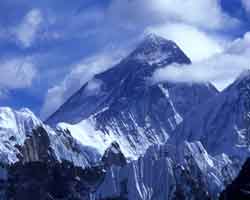 So I must start walking to our nearby town.  That's about six miles away.  And I can get the bus back if I get tired.
I don't know what all the fuss is about.