Grandad is getting a new meaning.
Head Rambles seems to do quite well in the search engines.
People find my humble site using all sorts of strange search terms.
I'm used to the usual searches for old folk doing unnatural things au naturel [and I have to be careful of the words I use here, otherwise they'll start finding this page!]
One that amazed me recently was a search for "عباس بن Ù?رناس". Yes. I copied and pasted that off Google. And Head Rambles came up at number 5 on the list.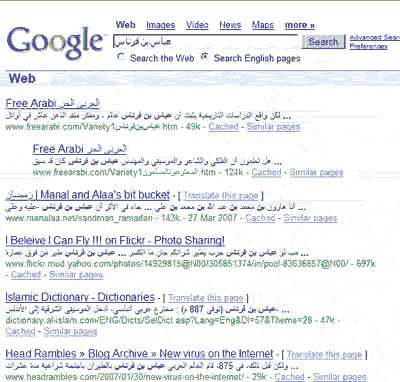 Also I am making Damien Mulley uncomfortable because he thinks I am redefining, or hijacking the word Grandad. He might be right. I did a search on "Grandad" on Google, and I come up number 4 there too!
So I am writing to all the various dictionaries to let them know. The on-line ones can take care of themselves. I suppose I'd better write to "Who's Who" also.
-oOo-