Bertie Ahern responsible for historic deal in North
Yesterday was an historic day in Northern Ireland Politics.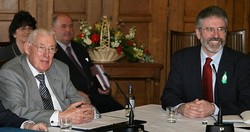 Yesterday's first meeting and agreement between Ian Paisley and Gerry Adams was hailed as a historic, reconciliatory and transforming moment in British-Irish history.
Bertie is going to claim all the credit for this, and will endlessly tell us so for the next six months.
For once he is right.
What he won't tell us is that prior to the agreement, Paisley and Adams met privately for a quiet meeting.
"Jayzus, Ian. I can't take much more of this."
"You're right Gerry. Anything is better than this."
"What are we going to do, Ian? If I have to listen to any more of that stuttering little f*cker, I'll go mad"
"I don't know about you, Gerry, but I can't understand a word he is saying. He's a head-wrecker"
"I'll tell you, Ian, I'm within an inch of shooting the little c*nt"
"Same here, Gerry. We have to do something to shut him up"
"How about it, Ian?"
"You mean….?"
"Yes. Let's bury the hatchet. It's been a long forty years, but anything is better than listening to that stuttering stammering little gobsh*te and his waffling nonsense"
"You're right Gerry. We'll do it. At this stage I'd kiss the Pope's arse to get rid of him"
"OK. Let's go tell them"