It is hard to practice what you preach.
For years now the E.U. has been telling us what is good for us.
They told us that carrots had to be straight, and eggs had to be a certain size. Then they started getting bolder, and began messing with our laws.
That's fair enough. If a country has bad laws and is out of line with the rest of Europe, than it should be asked to change.
Now they are entering into the anti-smoking thing. They want to introduce a continent-wide ban.
So far, Ireland, Scotland, Italy, Malta, Belgium and Sweden have signed up. England is about to join the Happy Gang. Even France – that great bastion of smokers – has thrown in the towel.
So the E.U. decided that they should lead the way and introduce a smoking ban in their buildings in Brussels and Strasbourg from the 1st of January. They should set an example. They should show how easy it is. The rest of the E.U. will look to them as a shining beacon of health.
The ban lasted 43 days.
They couldn't take it. They revolted in their masses.
"It is right for the Plebs and The Great Unwashed, but it is not right for us" they cried.
"It is grand in theory, but we cannot take it" they screamed.
In protest, they all lit up. Even non-smokers were lighting up. Several were reported to have died from asphyxiation, and dozens more non-smokers became addicted for life. The plume of smoke could be seen for miles.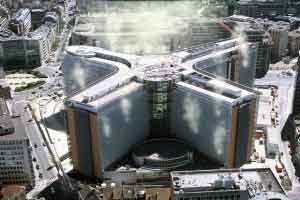 They repealed the ruling. The E.U. buildings are once more a smoker's haven.
"The rule was not achievable," a spokeswoman for Hans-Gert Poettering, the parliament's new president, was quoted as saying.
The rest of us must do as they say, not as they do.