So another Profitfest is nearly upon us.
There are several Profitfests in the year. The first is Valentine's Day, then there is Easter, and of course the mammy and daddy of them all – Christmas.
These Profitfests are the times when businesses con the public into parting with stupid sums of money for something they can get for half nothing for the rest of the year. Company accountants love them
They are trying to turn Mother's Day and Father's Day into the same, with some success. Halloween is another.
They would love to do the same with birthdays and anniversaries, but we, the inconsiderate public insist on having our birthdays and anniversaries at random times during the year.
The time will come when they [business] will try to convince us that we should all celebrate our birthdays on the same day. What a Profitfest that would be!
Of course there are lots of side effects to these Profitfests.
There are the people who don't have partners on Valentine's Day. They feel lonely because they have been convinced that this is the day for romance.
B*ll*x.
Wednesday is no different from any other day.
If you can only give romantic gestures on one day a year then you are not up to much.
And if the woman in your life is insulted because she was expecting something more expensive then she is worth even less.
Woman who expects financial returns in return for her affection = ?
Romance is a timeless thing. Every day is an opportunity for a romantic gesture. It's the simple things, like a touch of the hand, an unexpected cup of tea, a flower from the garden, a compliment.
This is what I will be giving Herself on Wednesday –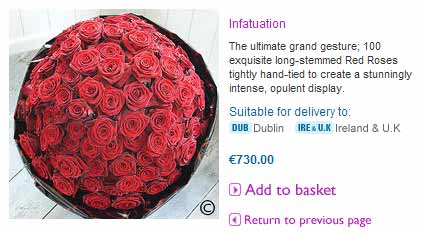 No. Not the flowers. The picture. It'll give her a laugh, though she'll be horrified at the price too. A laugh is worth more than a bunch of flowers that will be dead in a couple of days anyway.
And any prat who parts with €730 just to impress the little lady either has too much money, or has a very low opinion of himself [and her].
So go on – make a romantic gesture today.  Or tomorrow.  Or Saturday.  Or whenever it takes your fancy.  Surprise her.
Now thats romance