I have just eaten Hard Core
I have just had lunch.
Herself made me a cheese sandwich. It was nice. It was different from her usual cheese sandwiches.
I asked her about this and she said it was a new variety.
I had a look at the packet.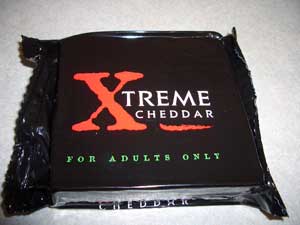 The cow has introduced me to hard core porn!
What am I going to do?
Mind you, I can't find any naked women in there [and I have looked VERY hard].
Why is it "Adults only"? Is it going to drive a child mad with lust?
Maybe it is only for use in smearing over naked bodies?
I have finished my sandwich now. I don't feel any great glowing in the loins. Mind you, with my medication that would be hard difficult [have to choose my words carefully here].
I suppose I have to back on the sex-offenders list again, now.