The real reason the smoking ban was intoduced
It has occurred to me that there is a game I used to play in my youth that was perfectly legal.
It is now illegal.
This game was called Battleships.
To play it, all you needed was a pub with a gents that had a trough urinal, and a few mates.
The idea was to get a skin full of pints, which of course we found very difficult and not enjoyable.
?
You then go into the gents, two or more at a time. If the women can go in pairs, why not the lads?
You then flick a few cigarette ends into the trough and let rip.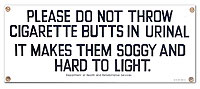 Points were awarded for various achievements.
You would get one point for separating the cigarette from the butt, and an extra point if you could split the cigarette so that the tobacco flowed out. Extra points could be gained for the distance the carnage travelled towards the plughole and of naturally there was a bonus if you could sink it altogether.
Of course the pubs tried to thwart us by putting up signs – "Please do not throw cigarette butts in the urinals", to which we would add [in indelible pen] "OK. If you stop pissing in our ashtrays".
The joys of youth!
They've finally stopped it by banning smoking in pubs. Maybe Battleships is why they brought in the law? Spoilsports.
My theory is that it was nothing to do with health. It was pressure from the Plumber's Union of Ireland and the National U-bend Unblocker's Association
I am thinking of bringing a constitutional challenge to the smoking law. The youth of this country are being prevented from playing a harmless game, which has been handed down from generation to generation.
This law contravenes the traditional rights of the individual. It is interfering in our heritage. Our historical culture is being destroyed.
It can't be right?