Within easy commuting distance of Dublin
The first thing you have to learn if you are buying a house in Ireland is that you are going to have to commute. Every house ad in the paper says "within commuting distance of Dublin".
This is true, because the commuter belt for Dublin now covers the entire country. So if you are selling a cowshed in Clifden, Schull or Glenties, you can now say it is "within commuting distance of Dublin".
But you must not confuse "commuting distance" with "commuting time". They are slightly different.
Now just about anywhere in Ireland is within 250 miles of Dublin. So at an average speed of 50 miles per hour, you'll make it in 5 hours. That is plenty. You get up at three in the morning, do what has to be done, and hit the road. You'll be at your desk by nine. You leave at half five, get home by half ten, have your dinner, be introduced to your children [who have forgotten who you are] and will be in bed by twelve. This gives you a whole three hours sleep, which is enough for anyone.
What they don't mention, is that the roads are just a tad crowded. Only a little bit mind, but enough.
So you get up at three, hit the road by four and reach the Red Cow Roundabout by half eight. If it is a good day, [for example, mid August when the schools are on holidays and most people are abroad] you will only take a further two hours to reach the office.
So you arrive at your desk at half ten and now have to make up time. So you don't leave your office until half seven. It takes you another two hours to reach the Red Cow Roundabout, so you finally hit the open road at half nine. And the chances are it will be the open road. They love digging up roads here and leaving temporary traffic lights. So that'll add another hour or two to your journey. So you get home at three, just in time to leave again.
But if the weather is bad and it's a Monday evening, you'll just about get as far as Kinnegad before you have to turn around and start Tuesday's commute.
So the main trunk roads are crowded each evening with commuters dashing to see how near they can get to their homes before turning around again. There is a rumour that one bloke in a souped up car once got as far as Sligo before having to turn around again. I don't believe it though.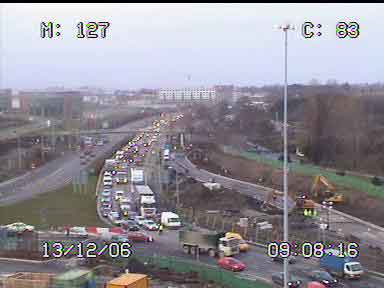 They nearly made it home last night
So. If you out and about at around three in the morning somewhere in the wilds of the Irish countryside, and you see a tired looking bedraggled motorist doing a three-point turn in the road, give him a smile. Give him a wave. He needs cheering up
He has just finished one days work, and is starting on the next.