There are some things that irritate me a little bit. Like not being able to find matching socks, or the phone ringing in the middle of my favourite programme.
There are some things that irritate me a lot. Like George W Bush, or constipation [can anyone spot the difference?]
There are some things that irritate me but they are necessary. Like traffic lights, or the government.
Then there are things that irritate me simply because they are not only unnecessary, but completely mindless.
Top of the heap in the latter category has to be the tacky little sticker you see in the rear window of cars. You know the one –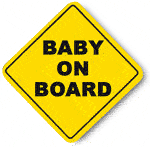 Now what the **** is that all about? What are they trying to say? Is this a warning? A threat? A boast?
I find them nauseating and tasteless. They say more about the IQ of the car owner than the contents of the car.
Are there really people out there so far behind on the evolutionary scale that they think that having a baby is something to be proud of? Let me tell them – it has been done. Quite a few people have had babies. In fact show me just one person on the entire face of this planet who's parent's haven't had a baby [exclude George W Bush from this please]. It happens every second of every day everywhere. Yet they feel that they are the only one to have achieved this, and that we should all look at their car with reverence and collectively go "Ahhhh".
Or maybe they are saying "please don't run into me"? So, I am in an uncontrollable skid at 100kmph because of blowout, and at the last second I see the "baby on board" sticker? I miraculously get the car under control in .0004 of a second and hit a tree instead?
Somebody please tell me what those stickers are on about.
Today, I saw a variation parked at the side of the road.
"Princess on board"
I couldn't help myself.
I'm sorry.