Well, whoda thunk it?
I guessed something like that was coming over the horizon, as after a remarkable run of silence, the anti-smokers have suddenly come to life again. I suppose for the last year they have been somewhat cowed by the pandemic which is of course a real health issue and not their imagined one.
Anyhows, they have come up with some new startling figures [have they ever produced figures that weren't startling?]. In hushed tones they have announced to the world that "Nine in ten smokers pick up the habit by age 25, studies show". Wow! Startling indeed!
Naturally they have a solution. They want the legal age of smoking to be raised to 21. I find this a little strange. Why 21 and not 25? If they raised the limit to 25 they would immediately eliminate 90% of all smokers? However I suppose they are taking into account that 21 year olds, while old enough to fight a war, drive a bus, get married, have several offspring, vote, buy a house [or even get a mortgage] and make adult decisions aren't really adults at all but just Big Children, and it's stretching credibility a bit to assume 25 year olds aren't adults who can actually make decisions on their own.
I noticed that at one point they produced a graph which proves conclusively that all their measures have had a significant effect on smoking cessation rates.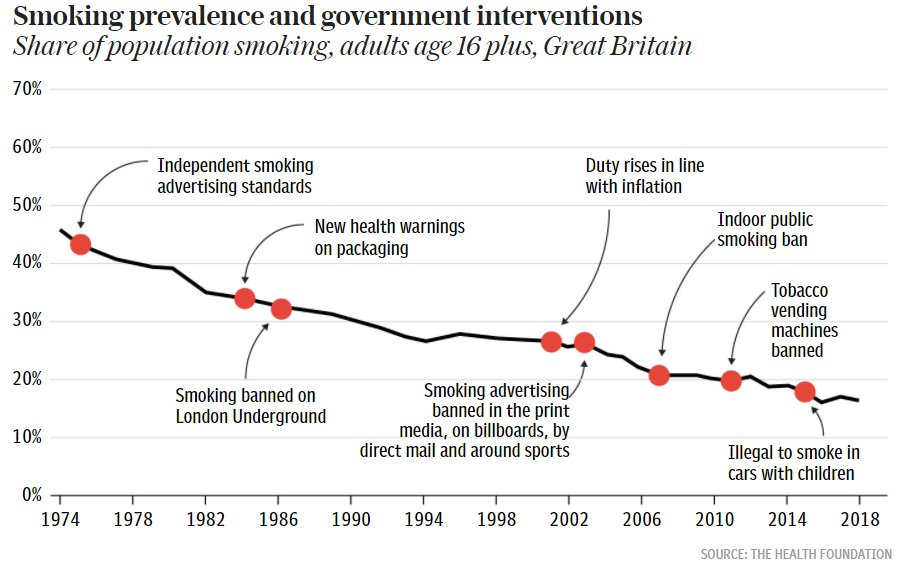 Notice the sharp drop off after each measure. Can't you see it? Maybe it's hidden by the red blobs? And please ignore the slowdown in rates after the introduction of the indoor ban, and indeed the rise after the ban on vending machines. We suspect Big Tobacco may have somehow interfered with the figures in some strange magical way. We all know how evil Big Tobacco is? Do note however the success of the banning of smoking in cars with children. This led to a sharp drop [just ignore the little bit after that].
I shall of course take cognisance of the day that's in it.
I scribbled about it, didn't I?
Anything to further The Cause