Pheidippides has a lot to answer for
For the life of me, I cannot understand the idea of running a marathon.
They're all at it today in Dublin – 20,000 people all running 26 miles [and 385 yards] for what? They end up a few yards from where they started but the price of that few yards is pain, exhaustion, dehydration and a fair chance of a heart attack.
I really and honestly cannot see the point of it all. I suppose there are those who will claim that it's an achievement, but it's a very artificial one. It's just an arbitrary [yes – I know it's history] distance and the idea is to run that distance. The achievement is not in winning but merely the ability to reach the finish line without suffering a coronary. No one really hopes to be first across the line: all they hope for is that they will arrive in one piece.
I can easily understand the concept of the challenge of climbing Mount Everest or swimming the English Channel. The former is the world's highest mountain and the latter saves on the ferry fare. They at least have an end goal, but running in a gigantic circle just seems so pointless.
If people want a challenge then why not set a productive goal? Why not give yourself six months of practice and learn to play the guitar, or write a book, or at the very least something that adds to your skills and can be of value later in life. There are those who will set out on the Camino-Santiago Way or the Appalachian Trail but there are two enormous differences – one is that they are both very scenic and the other is that they aren't a mass crowd thing. There is no one to cheer you on apart from others doing the same route, and there is no time limit. You get to experience new sights and places and I imagine it's very rewarding. But running through an overly familiar concrete jungle of city streets and suburban roads? What is the fucking point?.
I wonder if any of those running today's little event had the forethought to wait until mid-course to put their watches back an hour?
It would have done wonders for their timing?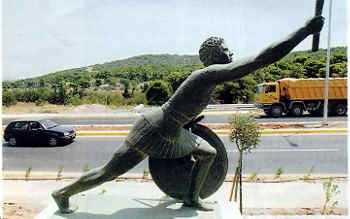 The idiot who started it all