Herself has a little "thing" about spiders.
There's nothing wrong with that. It's not that she's a scaredy little wimp or anything, and in fact can reduce a grown man to tears or swing a rat by its tail and sail it into next door's garden. She just doesn't like spiders.
Now this is rather unfortunate as being a rural dwelling this place seems to attract them. She won't go into the garage at all as the roof is home to dozens of those fine almost invisible ones – they look like a tiny pea with whiskers for legs – which is great as that's where I keep anything that I don't want her poking her nose into.
The house itself is a different matter. The whiskery ones don't seem to like the warmth, or maybe they are afraid of the big black hairy ones that live there?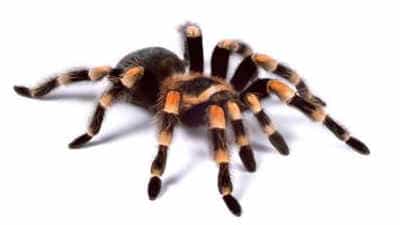 This time of year is a bad time. For some reason they all come crawling in from the garden to build their little [?] webs up in the ceiling between the old beams. This is fine until one looses his footing and drops onto Herself whereupon mayhem ensues. She has taken to scanning the room with her beady eye that can spot a spider at a hundred paces, before she'll even enter. I'm on a permanent Borris Watch.
I don't mind spiders and used to catch them and carry them in cupped hands and fuck them out into the garden. But then we found a Spider Catcher thingy which is like a stick with a cone of plastic bristles. This yoke was fantastic as I could pluck a spider off the ceiling, bring it outside and with a swing and a flick, I could sail it across the garden. I would love to know what goes through the spider's mind at this point or what he's going to say to his missus –
"Where the fuck have you been all evening?"

"I don't know. I was just gathering a few flies for dinner when this big plastic hairy thing came at me. The next thing I knew was that I was flying for the first time in my life. Quite exhilarating, actually."

"You've been fucking drinking again, haven't you?….."
We now have three of those Spider Catchers placed at strategic points around the house so one is readily to hand should Herself scream.
Lately however she discovered a new trick. She loves making potions and stuff [that I steer well clear of] and has come up with a solution [pun intended] that apparently does the trick. She gets one of those spray bottles that used to be kitchen cleaner and fills it with water and then adds a few drops of eucalyptus oil. She then sprays this everywhere she thinks a spider might appear, which could be anywhere in the house so basically she just sprays it everywhere.
Remarkably, this trick seems to work. I have only seen a couple of spiders so far this autumn. I admit one of them was an impressive brute [must have been a couple of inches across] but it was easy enough to send 'em flying into the holly tree.
The only drawback is that occasionally I am sitting half asleep and discover I am covered in quite a dense mist.
I'm getting used to the stench of eucalyptus though.
Next thing we'll be invaded by Koala Bears.