For those of you who aren't familiar with Danny Healy Rae, he's an elected representative in our illustrious parliament and hails from Kerry.
There are those who would brand him a redneck or a culchie, but I would prefer the term "cute hoor" which roughly translates as he'd live in your ear and let the other ear out in flats.
He has come in for some shtick lately over a speech he made in the Dáil on the subject of climate change. Since then he has been the subject of much mirth, ridicule and sneering, and I haven't seen one word in support of his ideas.
OK, so his accent is as thick as pig-shit and he sounds as if he's just repeating something that someone down the pub egged him into saying but I happen to agree with him. Well, actually I don't agree with him, but I do agree with what he is trying to say.
Una Mullally joins the queue of Danny Bashers in the Irish Times. I respect her writing but not this time – she just attacks using the tired old Green Party rhetoric – the sky is falling and we must all invest in tin hats and windmills to stop it.
By denying climate change, Healy-Rae is abandoning the interests of the very people he claims to be representing. Denying climate change is anti-farming, anti-agriculture, anti-rural life, anti-reality.
But the whole point is that Healy Rae isn't denying climate change and nor am I. What he is saying [or trying to say] is that climate change is real simply because it is always changing and has been doing so from its very origins.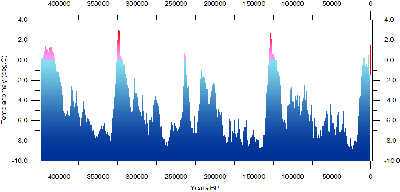 Global temperature over 400,000 years
What Healy Rae is trying to say [I think] is that we humans have fuck all to do with any changes. To change the climate of a planet requires mechanisms on a planetary scale. The Sun goes through phases, as does the Earth's orbit and indeed its very core. None of these factors are fully understood, but they all contribute to the formula. In comparison, Mankind's contributions are so miniscule as be be totally insignificant.
So Eamon Ryan and his Green Party can jump up and down screaming that we're killing the planet, but he might as well jump up and down in the hope of creating an earthquake.
I think that's what he was trying to explain?
Our Danny is right about one other thing though.
Look at the graph and note the huge changes over the millennia.
They all occurred before the invention of the combustible engine.
Fair play, Danny!