Every cloud has a poisoned lining
I am neither an expert nor even particularly a great fan of vaping.
I enjoy my pipe for a variety of reasons, mainly the flavour and indeed the ritual, and if a dose of nicotine was my ultimate and sole goal then I would probably take up an easier route such as cigarettes, or indeed vaping.
Having said that, I do indeed have a vaping yoke which I keep for those occasions where I have to inhabit one of those "smoke-free" zones for a prolonged period of time, and even then I very rarely use it [thereby indicating my lack of reliance on pure nicotine?]. As far as I am concerned, vaping is grand and fine for people who enjoy it, but it isn't for me. That said, I am fully on side with the vapers when it comes down to freedom and legislation.
Lately there have been quite a few items in the meeja on the subject of vaping, and they all seem to have one thing in common – they inevitably show a photograph or video of someone vaping and blowing out vast clouds of vapour.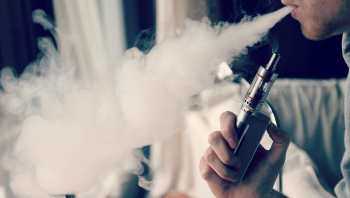 In my humble opinion, vapers are doing themselves a gigantic disfavour with this game of seeing who can produce the most cloud. There is a perception ingrained into the public's mind that second hand smoke is somehow dangerous, and here they see something that is virtually indistinguishable [on paper, on television or on a computer screen anyway] from cigarette exhale. What is their instinctive reaction? That vapour is dangerous shit and should be banned.
I have seen quite a few people use e-cigarettes and few have produced much in the way of vapour so I can only conclude that this is some kind of sub-culture whose aim is to produce the biggest cloud, a bit like the young people of old who delighted in blowing the biggest smoke-rings.
When I light up the pipe, I would be hard pressed to produce clouds like the ones in the meeja. When I see them blowing away my instinctive reaction is one of Holy Fuck, until reality kicks in and I realise it's only harmless vapour. But the vast majority of unenlightened viewers are going to stick at the Holy Fuck stage and will assume the stuff is a dangerous as sin.
This gamesmanship really is not doing vapers any favours.
It is playing right into the hands of the Anti Nazis.