Yet another insult to the intelligence
Are you aware that this is Carbon Monoxide Awareness Week?
Well, if you weren't aware, you certainly are aware now.
For one glorious week you can completely forget about Prostate Cancer, Children in Africa, Polar Bears and all the other shit that has its own Awareness Week, and concentrate entirely on Carbon Monoxide.
Now I know a bit about Carbon Monoxide because I went to school once. I'm sure everyone has been to school at one stage so we should all know that Carbon Monoxide is a colourless, odourless, tasteless gas [very like our Dame Enda in fact] and really we shouldn't need reminding. It also happens to be very dangerous [again, just like Dame Enda]. And herein lies the problem. Because it is colourless, odourless and tasteless you cannot see it, taste it or smell it so therefore you cannot be aware of it.
So their entire campaign is a bit daft. They are imploring us to be aware of something that by definition we can't be aware of. It's a bit like warning us of unforeseen events.
It came to my attention when I noticed a revolting character on the [muted] television screen. It appeared to be some kind of cartoon chicken with an extremely bad case of Mumps, or Gout. For some strange reason it reminded me of Cyril Smith.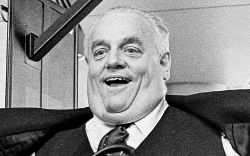 Anyhows this chicken proceeded to sing at me [I presume, as the sound was muted] in a manner that frankly made my stomach churn. I did a little research and thus discovered to my dismay that I had already missed several hours of the Awareness Week.
I can only assume that the revolting apparition is supposed to be a miners' canary though they don't make that plain. And as I have said before, I am a fucking adult and the whole idea of trying to impress me with a kid's cartoon caricature is more than a little insulting to my intelligence.
So there you have it. More money wasted trying to make me aware of something I can't detect anyway.
I found this on the Interweb, and as with most films these days I have to insert the compulsory warning –
We would like to warn you that this film contains content which some viewers may find nauseating and will, in any case find completely incomprehensible.
Buy now on Google Play?
Good fucking luck!