How to get lost in one building
I had a strange and not so pleasant experience yesterday.
I had to attend a clinic.
And before any of you smartarses comment, it was an eye clinic and not the other kind.
The clinic in question is in the Beacon Centre in south Dublin, in the middle of an industrial estate. For those of you fortunate enough never to have visited this monstrosity, the Centre comprises a Hotel, a Hospital, a Centre and a Clinic and they are all gloriously mixed up into one complex.
I drove into their underground carpark, which is a maze of one way systems so by the time I parked the car I was completely disorientated. I found the entrance to the Hospital. They had sent me instructions and they said I need to find a lift and go to Floor 0. I eventually found a lift and pressed 0. The doors just opened again, as apparently I was on Floor 0.
I asked at the reception desk. A rather snotty female informed me I was in the Hospital and I needed the Clinic and that I was on the wrong floor anyway. She gave hopeless directions and left me to get lost again.
I went up to Floor 1 which is also a ground floor area [did I say this place is really fucking confusing?]. I wandered through several doors and found myself outside and surrounded by smokers [each one sitting under a no smoking sign]. I entered another door and found myself in the Centre.
The Centre is like a large indoor shopping centre, though all the shops seem to be medically inclined. They were all Weight Loss Clinics, Laser Eye Clinics, Pharmacies and the like. The place was deserted anyway so I wandered on. I passed through a deserted café area and found myself outside again. I rested for a smoke under another no smoking sign. My nerves needed settling.
I found another door and wonder of wonders – I found myself in the Clinic.
For some strange reason, the Clinic was well marked out inside and I found my area straight off.
Then it came to the leaving bit.
I left the Clinic and went through my smoking area and found myself in the Centre again. I got lost. I eventually found another door to the courtyard and found my way back to the hospital and after another half hour I found my car. Then I realised I couldn't get out unless I paid for my ticket.
Naturally I got lost looking for a ticket machine but I found one eventually. Seven fucking euro fifty! For fuck's sake! and most of the time I was paying for was time spent getting lost. So there is method in their madness?
I finally got through the ticket barrier and drove up some ramps. I drove around a corner and found myself confronted with another red and white barrier, and beyond that, massive steel gates. I had used my ticket in the first barrier, and I couldn't turn around as it was all one way. The only way was forward.
I had had enough.
I lost it.
I just drove at the barrier and to hell with my windscreen and the paintwork.
Just as I was about to hit the barrier, it opened, the steel gates slid back, and I shot out onto a main road, which caused some consternation.
I have to go back in a couple of weeks.
I'm bringing the SatNav next time.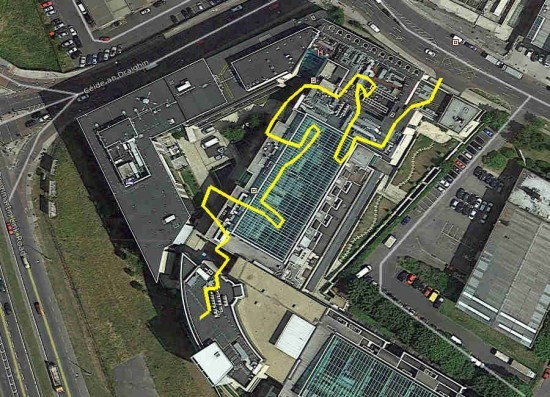 My approximate route to the Clinic with some meanderings omitted for clarity.