More discoveries about Penny.
She is the laziest dog I have ever met.  Has anyone else ever seen a dog that lies down to eat?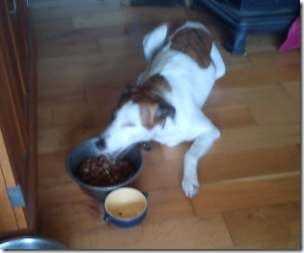 Cream or Asparagus Soup followed by
Filet Mignon. 
She is now very happy with the car but insists on travelling on the back seat.  I hate back seat drivers.
She is not as obedient as I thought.  She proved this by haring off up the road after another dog despite my calls.  I discovered that I can run faster than I thought I could.
She hates the hose.  I now hose her down each time she goes in the lake.  Sooner or later she'll put two and two together.
She is a great watchdog.  She attacked the grandchilder yesterday when they called unannounced.  That'll teach 'em.
She bears grudges.  I hosed her down apres lac about an hour ago.  She's still hiding in the long grass.
Her idea of affection is to suddenly appear out of nowhere and jump on my lap.  As the laptop is often there, she has fucked up more documents than I care to think about.  She can't spell for nuts.
She is utterly confused by her own legs.  She doesn't know what to do with them most of the time and she tends to sleep with them sticking out at very strange angles.

Where did that paw under her ear come from?
The adventure continues.